Australian history incursions: shows & workshops for primary and secondary schools
General Australian History
The Australian History Show

A song & story show that covers a wide range of Australian history topics,
tailored to suit your curriculum focus.
Curriculum
P-6 and secondary
Cost
$5 per student with a minimum of $500 per show
Travel/accom/road toll fees may apply in some locations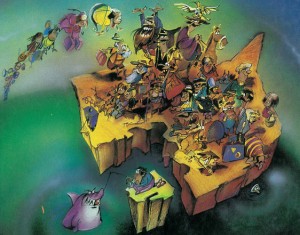 The Australian History Show                                                                          

In The Australian History Show I sing a variety of old and new Australian songs and tell stories from all periods of Australian history.The exact items will very according to the curriculum focus of the class, but it can be anything from convict ballads, Indigenous songs and stories (with permission) to original contemporary material.
I get students involved in discussion and in singing and playing instruments.  The Australian History Show is entertaining, informative, flexible and fun with lots of student participation in the music and stories.
In the show I play five-string banjo, harmonica, bodhran (Irish drum), ukulele, spoons, rhythm bones and tea-chest bass, and get students playing some of these instruments.
I also use selected props, costumes and artefacts that I've collected on my travels – a conch shell that leads to the story of fire; a dog-spike from when I was a fettler on the old Ghan railway line, etc.
The items performed can be general Australian history as described above, or if you wish the focus can be narrowed to certain areas, for example:
Black-white history
Historical stories of first contact, with songs I've learnt from Indigenous friends and from events such as the 1966 Gurindji walk-off; excerpts from my theatre shows Whitefella Learns to Dance, The Go-between: William Murrungurk Buckley, Bilarni and CANAKKALE. GALLIPOLI. Lest We Forget; material from radio and television documentaries that I've made with Indigenous people, and from my biography with Wardaman elder, Yidumduma Bill Harney.

Australians of Significance
Songs and stories that tell of Capt. Cook (even though he wasn't Australian) to writers such Henry Lawson; his mother Louis Lawson, also known as the 'mother of the vote for women'; the female immigrant's friend, Caroline Chisholme; John Batman, who started the 'land rush' to Melbourne; Gough Whitman and Vincent Lingiari who marked the beginning of Australians understanding of Land Rights with the famous photo with the handful of sand; poets Mary Gilmore and CD Dennis, Ned Kelly and more.

Colonial Times
As is well-known, I was a founder of Australia's most famous bush band, The Bushwackers, specializing in Australia's folk repertoire of 18th, 19thand early 20th century Australia. From this repertoire – be it convict material, men and women in the bush, the bish and the city, and much more – I can fashion a show to suit your studies.