Australian history incursions: shows & workshops for primary and secondary schools
Family & Local History
Landmarks of Melbourne

Curriculum
Junior PS

Australian
 Studies/History
Cost
$5 per student. Minimum $500 per show
Travel/accom/road tolls may apply in some locations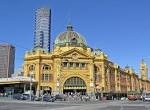 "The pupils were immersed in the ambiance Jan created as he 'walked' them through a timeline of events linked to the landmarks of Melbourne that make our marvelous city what it is today. The presentation provided pupils with a sense of place that connected them to the spirit of Melbourne from the early Kulin people and the story of European settlement."
                                                                                        Altan Riffat, Leading Teacher, Taylor's Lakes PS

Using songs and stories as well as projected historical and contemporary images, Jan takes students on a walk through the history of Melbourne,  from pre-history with the creation of the Yarra and how Port Phillip Bay was once a plain, to places we are familiar with such as the MCG.
Included are Wurundjeri icons such as Bunjil the Creator as well as Indigenous place names for Melbourne, Melbourne Gaol where Ned Kelly was hung, Flemington Racecourse where Phar Lap rode, the Treasury Gardens and Captain Cook's Cottage.
There is lots of student participation, singing and playing simple instruments. For your area I can try to add something relating to local features. For example at Taylor's Lakes PS we included the nearby Organ Pipes National Park.
" As children remained transfixed, Jan covered the main features of our topic, including man-made and naturally occurring features. Jan's performance was perfectly targeted to our grade 2 pupils. His capacity to educate was wonderfully complimented with captivating musical performance, theatrical personification and storytelling. He included pupils in the performance, which gave them the opportunity to experience things hands-on and share in the performance.Our topic is called Marvellous Melbourne, developed from our Aus Vels curriculum for level 2 (grade 2) history. We are looking forward to inviting Jan back again next year."
Altan Riffat, Leading Teacher, Taylor's Lakes PS