Australian history incursions: shows & workshops for primary and secondary schools
1850s Gold Rush
GOLD IN THE HEART
Music & story theatre
The events, people and politics of the gold rush
– men, women, Aboriginal, Chinese –
and the path to Eureka and democracy,
with new information about the 1851 'Monster Meeting'.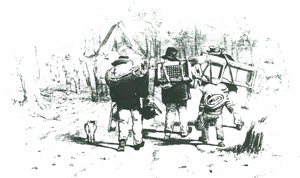 Thank you for your performance at Cheltenham Primary School.  It was much enjoyed by staff and students alike. You encapsulated the aspects of the gold rush (geographical, social historical, economic and political) all in one, which was great. Sometimes the students need to see a play/ performance rather than something ICT focussed to get a real immersion in a topic. (David Senior, Senior School Coordinator, Cheltenham PS)
Curriculum
Year 4- 6 (NAT 5: Colonies)& suitable for secondary
The Practical Stuff
60 minutes + questions, 60 min set up
Five students play roles in the show, with scripts sent ahead.
Cost
$5 per student with a minimum $500 per show
Travel/accom/ road toll costs may apply in some locations
CONTENT DETAILS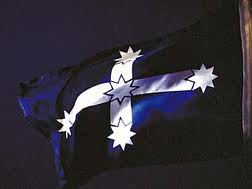 Gold in the Heart
Gold in the Heart tells the story of the 1850's gold rush through the adventures of an Irish gold digger, Denis O'Reilly, whose journey intersects with the politics of the day: the government's gold licence and diggers demand for a vote that led to Eureka and democracy in Australia.
Utilizing digger's songs, music and poetry, documents, maps, flags, newspaper reports and gold-seekers tales – European, Chinese and Indigenous – GOLD IN THE HEART paints a vivid picture of goldfields life, including:
Conditions on the goldfields
How the diggers protests against the government license and police brutality began in 1851, three years before Eureka, with the Monster Meeting of 15,000 diggers at Forest Creek, now Chewton near Castlemaine
Then continued through Bendigo's 1853 Red Ribbon Agitation
And erupted into bloodshed at Eureka/Ballarat in 1854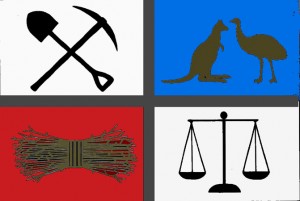 It's a story of how ordinary people dreamt of a better life and of democracy, and how some made it rich whilst others died, the diggers all the while singing of a 'good time a coming'.
Because Jan lives in Castlemaine, where the gold rush history is etched into the landscape, he brings his personal experiences into this show.
Teacher's Recommendations

"Our Grade 5 students thoroughly enjoyed Gold In The Heart as it brought the Gold Rush to life in a way that I never could! Plenty of catchy songs, engaging content and opportunities for children to participate in a witty, educational script. Overall it was an afternoon well spent and I'd highly recommend it while studying this era in Australian history."
                                                                                                                                                             Cian Hassett, Courteney Gardens PS

"A wonderful combination of characters, music, information and amusing drama, with students joining the performance, taking on various character roles and actively discovering the amazing journeys of many immigrants who arrived on our shores during the gold rush.  It was something students and staff all enjoyed."
                                                                                                                                                           Cathy Samson, Castlemaine North PS

Thanks again for performing at our school last week.  It was an enjoyable and most informative show and  we all gained lots of new insight into life on the gold fields.  I hope that you can come again in a couple of years time.  (Jenny Penaluna, Daylesford Secondary College)

Thank you for your performance at Cheltenham Primary School.  It was much enjoyed by staff and students alike. You encapsulated the aspects of the gold rush (geographical, social historical, economic and political) all in one, which was great. Sometimes the students need to see a play/ performance rather than something ICT focussed to get a real immersion in a topic. (David Senior, Senior School Coordinator, Cheltenham PS)

Thank you so much for performing at our school yesterday.  I was at school for tutoring this afternoon and I was surrounded by kids who couldn't wait to tell me everything about your show.  They loved it!  They told me about the songs and instruments and one of the teachers mentioned how inspired they were to write about the gold fields in their afternoon class.  All in all they had a fantastic time! (Elaine Keely, St Mary's, Cohuna)

The content of your show really complemented our gold rush unit. We especially enjoyed the musical element and it was great to get the kids involved…you covered so much good content that I really think there was something for everyone, and there was plenty of material for the teachers to draw on back in the classroom. The way you have incorporated so many different perspectives into your show is really excellent. Thanks so much for coming to see us. (Brigid Little, St John's PS, Frankston)