Australian history incursions: shows & workshops for primary and secondary schools
World War One, Gallipoli
ÇANAKKALE. GALLIPOLI. LEST WE FORGET.

Music & story theatre

Gallipoli re-told with Turkish & Australian song, poetry and story.
Contextualised within Australian involvement in WW1.
(Çanakkale (pronounced 'Cha-nak-ali') is what Turks call Gallipoli.)

'Mehmet' the Turkish soldier and Australian digger

"It was a brilliant production and we will certainly book Jan again. I was very impressed with how Jan involved our students in the presentation. Jan had total control, they were silent, listened attentively, and the questions were deep and meaningful." (Billanook College, Victoria)
The Practical Stuff
Year 5/6 & secondary (NAT year 9: Modern World)
60 mins + questions / 60 min set up
Five students play roles with scripts sent ahead
Cost
$5 per student with minimum $500 per show
Travel/accom/road toll costs may apply in some locations
CONTENT DETAILS
Ç

anakkale. Gallipoli. Lest We Forget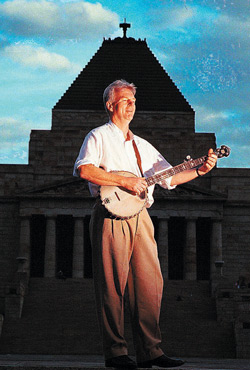 The show is structured around four events: the April landing, the May truce, the August offensive and the December evacuation.
The Australian material comes from poets CJ Dennis and Mary Gilmore, the ABC archives of Bill Harney, songwriters Ted Egan and Eric Bogle, and traditional songs from the time.
The Turkish material is drawn from poets Nazim Hikmet and Bulent Ecevit, traditional song, and from the words of Turkish hero, Mustafa Kemal Attaturk.
This historical content is laced together by Jan's experiences performing at Gallipoli.
By bringing both sides together in Çanakkale. Gallipoli. Lest We Forget our Anzac legend is enlarged by the Turkish legend of how enemy soldiers found respect for each other, and how that respect led to the friendship that Australia and Turkey share today. This performance also questions the veracity of this contemporary story.
Students are also asked to think about questions such as was Gallipoli the 'birth of a nation?', and to compare Australia's Gallipoli identity to Turkey's, via Mustafa Kemal Attaturk, the commander against the Anzacs who became their President.