Hello and welcome to The Storytellers Guide to the Goldfields – a series of audio tours to take you around the historic goldfields and Jaara Aboriginal sites of the goldfields area of central Victoria – for walking, driving or on your bike.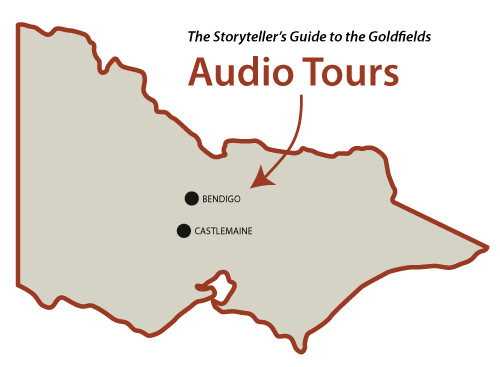 Brimming with wonderful stories and superb original and traditional music, featuring knowledgeable and fun local historians, and all based in thorough research, The Storytellers Guide to the Goldfields is a 'must do' for locals and visitors to central Victoria. Definitely not worth missing!
And you will find loads of historical and contemporary artworks and photographs throughout.
Produced by multi award-winning storyteller and musician, Jan 'Yarn' Wositzky, each tour is about 60 minutes plus travel/walking – with the Diggings Tour made up of three sections, each about 60 minutes, plus travel.
All up there's 60 stops and 60 stories, with music.
So, to take the trip simply choose which tour, go to the starting point, stream the audio onto your phone, tablet, computer (or whatever else has been invented by now), and off you go.
You'll always end back where you started, only a whole lot smarter and knowledgeable for the journey!
And you'll be entertained.
So enjoy, travel safely and please send us any feedback. We'd love to hear from you.
Cheers,
Jan 'Yarn' Wositzky
Indigenous People
The Jaara people are the Aboriginal people of this area, and their language is the Dja Dja Wurrung language. We are honoured to have their stories and music in these tours, and a warning: these tours contain the voice of Jaara elder, Uncle Brien Nelson, who has passed away. He was a great leader and a true gentleman.
Photos above are, left to right: Gold rush scene (artist unknown),  Jaara elder, Uncle Ricky Nelson (photo Nalderun), Garfield Water Wheel (photographer unknown).