Jan 'Yarn' Wositzky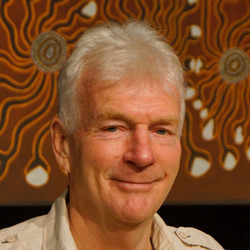 Storyteller, writer & folk musician

'..the ultimate yarnspinner: a singer, musician and writer who can hold audiences spellbound.' (The Australian)
"…in an era when much local creative writing fails to probe beyond latte land… it's refreshing to see someone reach back to our spiritual roots.."  (Melbourne Age)
SCHOOLS
Australian History Shows & Workshops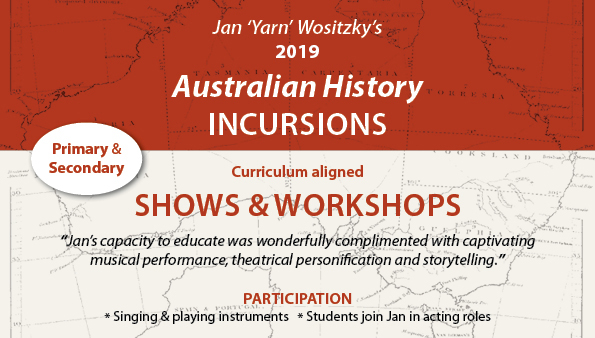 TEACHERS – you  can download the flyer (left)…
Read a brief introduction to myself, my shows and workshops …
Go to the sidebar for all presentations …
ONE MAN SHOWS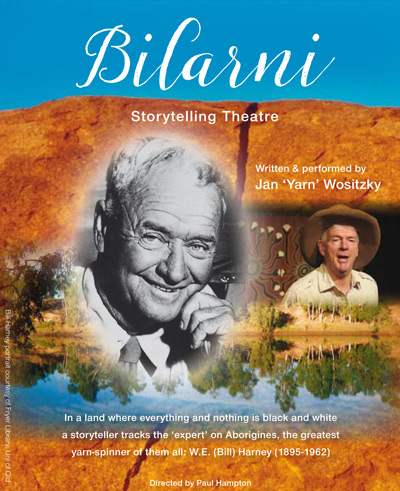 Bilarni: Storytelling Theatre
My adventures with Northern Territory legend, W.E. (Bill) Harney
Written and performed by Jan 'Yarn' Wositzky.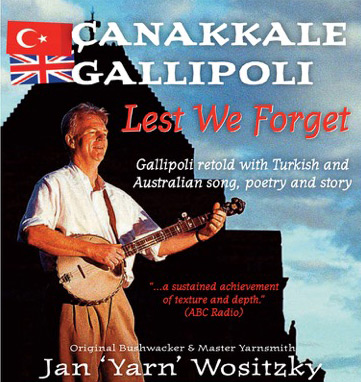 Canakkale Gallipoli.
Lest We Forget.
Gallipoli retold with Turkish and Australian song, poetry and story.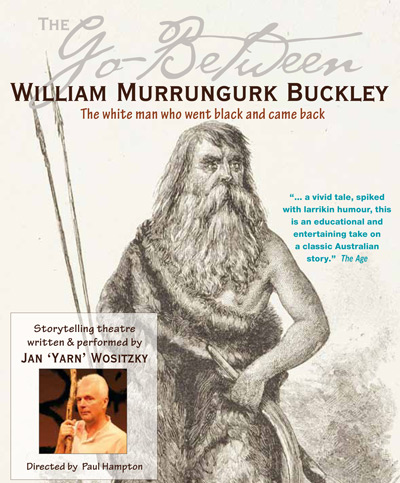 The Go-Between
William Murrungurk Buckley.
The white man who went black and came back.
Email jan@janwositzky.com.au or phone 0417 332 065
Join my
EMAIL NEWSLETTER
For CDs & BOOKS go straight to my shop.
There's a few clips on YOU TUBE –
the Wominjika Ceremony, some music, a political speech, etc
You can go here to view my series of MONSTER MEETING INTERVIEWS
re this seminal gold rush event.
For the guided AUDIO TOURS OF THE VICTORIAN GOLDFIELDS
Download the MP3s.
And me …?
My full name is Frantisek Jan McMurray Wositzky. Yeah, quite a moniker, though hardly suited to show business. These days I go by Jan 'Yarn' Wositzky: to show people how to pronounce it and also because it's what I do – spin a yarn.
Officially I call myself a Storyteller Musician – music being where my career began, forty-three years ago, as a founder of The Bushwackers Band, playing the humble tea-chest bass (you will often notice today there's a tea-chest with me lurking somewhere on the stage).
After a decade with the 'Wackers I took off to travel, write one man story shows, get together the occasional band, produce radio features, write books and audio tours and produce CDs and events – all the way walking the tightrope of earning a living from what you love. And I'm still here at 63, and dare I say, performing better than ever. Maturity trumping youth, perhaps.
The instruments I play are old style 5-string banjo (not bluegrass), harmonica, bodhran, spoons, rhythm bones and a bit of ukelele (doesn't everyone these days?).
The through line in all of this has been my dedication to quality Australian stories – people stories, universal stories from this land. My parents, Clare McMurray, a regal Scot, and Frantisek Wositzky, a gregarious Czech, brought me to Australia when I was five. They were steeped in the culture of their homelands and when I think about what I do …  maybe I'm trying to find the same cultural identity in the homeland I was brought to – and to pass it on. Then again, maybe I'm avoiding ever having a real job.
My material ranges from history tales, folk songs, originals tales and songs about weird and wonderful happenings and people I meet. I'm part of a nation, I feel, that's still trying to find itself. I do a lot of cross-cultural work, with Indigenous Australians, Turks and others, telling our mutual stories.
My home is Castlemaine – the most diverse mono-cultural town in Victoria – 120 ks from Melbourne. It's traditional Dja Dja Wurrung country, gold rush country, an arts town, an engineering town, with a mix of old country folk and 'latte swilling blow-ins'.
Cheers, Jan.