Bilarni
Storytelling theatre
written & performed by Jan 'Yarn' Wositzky
Directed by Paul Hampton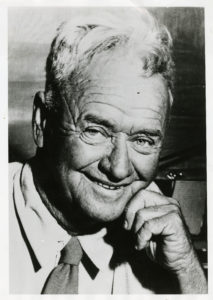 In a beautiful and brutal land where everything and nothing is black and white (the Northern Territory), Jan 'Yarn' Wositzky goes on many weird and wonderful adventures as he tracks the life of WE (Bill) Harney (1895-1962) – the greatest yarn-spinner of them all and the man who was known Australia wide as the 'expert' on Aborigines.
Scripted from Harney's many books, radio broadcasts and personal papers, as well as Jan 'Yarn' Wositzky's research journeys, Bilarni tells of an 'uneducated' Northern Territory bushman who returned from World War One to live amongst Aborigines: as a lover, husband and father who lost it all – and that's only the beginning of a truly epic tale where Bill Harney became known around the world as the 'Custodian of the Rock' (Uluru).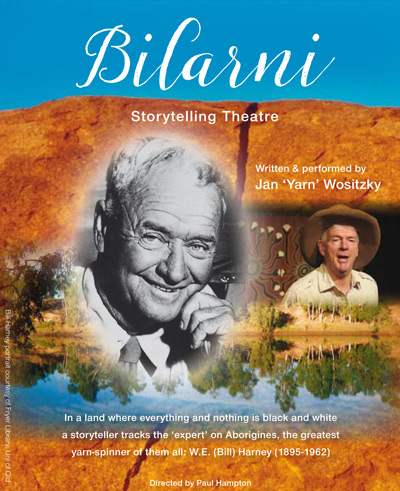 Never a life a comfort, at times shocking, full of joy and suffering, and mirthful, erudite, sharp and ironic in the telling, Bilarni puts black-white relationships at the heart of Australian identity – including dealing with allegations of Harney as murderer and bringing onto the stage Bill Harney's publically unacknowledged Wardaman son, Yidumduma Bill Harney.
To put the show together Jan 'Yarn' Wositzky was the recipient of the 2014 National Folk Fellowship from the National Library of Australia.
Bilarni contains language that may offend. Not suitable for under 12s.
80 mins, no interval
Jan 'Yarn' Wositzky
He's well known as a founder, front man and resident yarn-spinner of the legendary Bushwackers Band (1971-81). But post those heady, beery and sometimes controversial bush-rock days Jan 'Yarn' Wositzky's career has taken him along tracks less-travelled – both geographically and philosophically – in search of a deeper Australia.
A strong theme of Jan's work over these last three decades has been black and white Australia. Jan's performed acclaimed stage shows (The Go-Between: William Murrungurk Buckley, Whitefella Learns to Dance), scripted award-winning radio and television documentaries (Buwarrala Akarriya: Journey East, Aeroplane Dance) and written best-selling books (Born Under the Paperbark Tree, In the Footsteps of Our Ancestors), both in collaboration with Aboriginal people and off his own bat, all telling stories about relationships between black and white Australians.
PRAISE FOR BILARNI
Jan Wositzky has a laconic genius for conjuring voices from our past, and his Bilarni is a masterpiece. We go bush with him, but it is much more than bush.
Barry Hill, author
"Bilarni shows how one actor can take one thread of a story and weave something out of it that shimmers with its own life and power. Wositzky manages to do justice to each character he creates, with the lightest of touch and the easy familiarity of a born storyteller."
Cate Kennedy, author
"Bilarni is a rich, multi-layered and finely nuanced work, and the performance is beautifully structured and paced. Jan 'Yarn' Wositzky has clearly devoted years of research and thinking to the development of Bilarni, and it shows."
Malcolm McKinnon, filmmaker
"Jan 'Yarn' Wositzky's one man show Bilarni is a story telling masterpiece that gives us an insight into one of the great enigmatic characters of the outback – Bill Harney. At once tender and robust, Jan's evocation of an extraordinary life reveals with humour and pathos the complexity of our relationship with the land, it's original people and our attempts to find a home."
Ian Roberts, Arts Administrator &
former GM of Melbourne International Arts Festival
"Jan's performance was just great. With his singing, dancing and storytelling skills, demonstrated via careful research and his own travel adventures, Bilarni does Bill Harney proud."
Jason Gibson, Curator, Humanities Department, Museum Victoria
"Storytelling at its best. Neither sentimental nor uncritical, Jan 'Yarn' Wositzky brings great depth to the telling, and his musicality is evident throughout, particularly so when it comes to the mastery of Harney's rhythmical speech patterns."
Jackie Kerin, President Storytelling Australia (Vic)
"Jan Wositzky's Bilarni is a blooming  little miracle. One minute you see a man with a whole lot of props on a stage and then next you're travelling a thousand miles into the Australian bush and meeting amazing characters. Sad, wistful and funny, but always surprising, Jan's seemingly effortless storytelling is a joyful masterpiece in memory that takes us to a largely unknown Australia we all need to know about." 
Kavisha Mazzella, Aria award-winning singer-songwriter
"Two legends – Bill Harney and Jan 'Yarn' Wositzky – a two for one deal."
John Romeril, playwright
"Loved the show. I thought it was really well structured and given my interest in Bill Harney and the shooting rumours I found the story fascinating. One of the stand-out features was the definition of the different characters. It was very well done, they all came to life as distinct characters. The jokes were all very funny as we'll."
John Moore, film maker, Sensible Films
"Many thanks for an amazing performance. It had humour, sadness, intrigue, mystery – the lot! The narrative flowed beautifully. There was never a dull moment. Do try to take the show to the big smoke. It deserves it."
Kim Lockwood, Harney's Godson and former sub-editor of Herald-Sun