Buckley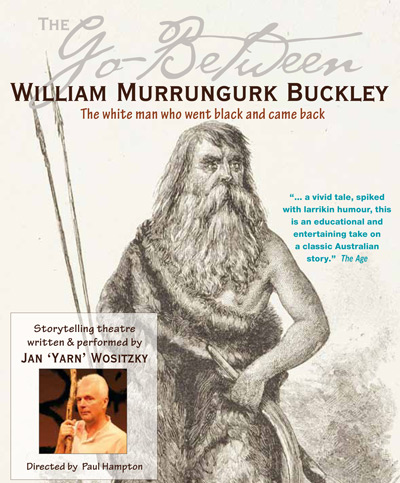 The Go-Between: William Murrungurk Buckley tracks the epic adventure of a convict's escape in 1803 from the farthest out- post of the British Empire – Sullivan Bay (Sorrento) on Port Phillip, and explores Buckley's 32 years with Wathaurong people where he became Murrungurk, a spirit returned from the dead. The performance then follows Buckley into the little known, treacherous, political end game, when he worked as Interpreter between the traditional owners and the invading colonists of Australia.
Weaving Buckley's ghosted 1852 biography with Wathaurong language, historic documents, archival images, music and poetry, The Go-between: William Murrungurk Buckley takes audiences into the not-so-black-and-white world of early Victoria, of murder, massacre, and Buckley's bruising encounters with the famous and infamous characters of colonial Melbourne – Batman, Fawkner, Gellibrand and Derrimut.
Told by Jan 'Yarn' Wositzky in savage, humorous fashion, The Go- Between: William Murrungurk Buckley is the story of an outsider who was our first agent of reconciliation.
And where does the saying You've got Buckley's come from? You'll be surprised.