Canakkale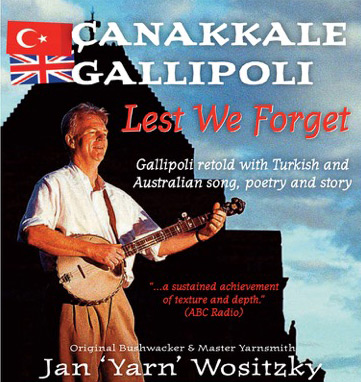 Once were enemies. Now we're friends.
Gallipoli re-told with Turkish and Australian song, poetry & story
Written and performed by
Jan 'Yarn' Wositzky (banjo, harmonica, bodhran)
with
Jack Norton (oud, saz, tanbur & guitar)
Pronounced Cha-nak-ale, Turkish people call Gallipoli the Çanakkale War.
In ÇANAKKALE/GALLIPOLI storyteller Jan 'Yarn' Wositzky (Bushwackers Band etc) re-tells Gallipoli with Turkish and Australian literature, music and song.
Emotional, respectful and informative, transcending flag-waving nationalism and debunking the odd furphy, this is montage theatre that explores and examines the current idea that 'once we were enemies, now we're friends'. 
It tells of soldiers from different worlds who shared a living hell, and of their women folk, behind the lines and across the seas, who waited and grieved.
Portraying characters from Turkish widows to pissed Aussie revellers and with the historical story linked with Jan's Gallipoli experiences, ÇANAKKALE/GALLIPOLI provides a deeply human story that evokes the charming, tragic innocence of one nation and the cultural depth, and world-weariness, of the other.
This theme of an old and a new nation is also very present in the music, with Jack Norton a deep scholar of Turkish modal music, playing traditional improvisations appropriate to the gathering storyline of the show.
ÇANAKKALE / GALLIPOLI is also sprinkled with little understood history: that the Gallipoli campaign was devised to keep Russia in WW1 – rather than to defend our values and country as many people will spruik today; and that whilst the Anzacs lost 11,488 dead, the Turks the Turks lost 86,000.
By telling it from both sides ÇANAKKALE / GALLIPOLI is genuinely unique in the world, a feast of great literature and sublime music, drawn from the works of:
* Traditional Turkish and Australian musicians
* The stories of Turkish tour guide Ali Efes
* Eric Bogle, Nazim Hikmet, CJ Dennis, Ted Egan, Bill Harney, Ifran Orga, 'Banjo' Patterson, Jack O'Hagan, Mary Gilmore,
Mustafa Kemal Atatürk (so they say), Peter & Molly Kukura, Bülent Ecevit and Necmettin Halil Onan.
From this rich body of material Jan draws out and examines the over-arching Turkish narrative that enemy soldiers grew to respect each other, and of how that respect became the friendship that Turks and Australians share today.
In 2003 this show was a hit with the 8000 people who awaited the Dawn Service at Anzac Cove.
Lest We Forget – Hic Unutmaya Cagiz is ingenious in being able to capture both the Anzac and Turkish experience and present it in a way that it totally accessible, engaging, and respectful, but at the same time quietly theatrical.
(Harvey Broadbent, maker of Gallipoli documentaries)
'With your songs you have touched the souls of thousands of people at Anzak Cove…singing the story of how destiny brought young soldiers here from different cultures…On the green, green grasses of Anzak Cove we shared the forgiveness, and peace.'
(Eser Ekin, Turkish visual artist)
"Fantastic…Brought a tear to my eye…Very moving – thank you…Brilliant…Excellent, great use of hats…Thank you. Brilliant…A brilliant presentation, thank you…A stunning production."
Audience comments at Newstead Live! 2015