Australian history incursions: shows & workshops for primary and secondary schools
General Australian History
The Australian History Show

A song & story show that covers a wide range of Australian history topics,
tailored to suit your curriculum focus.
Please ask and I'll build the show accordingly.
Curriculum
P-6 and secondary
Cost
$5 per student with a minimum of $500 per show
Travel/accom/road toll fees apply in some locations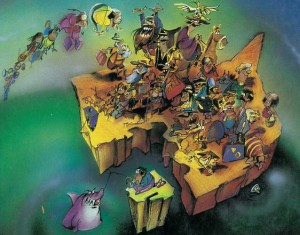 In The Australian History Show is made up of songs and stories from all periods of Australian history – entertaining, informative and fun, with myself playing five-string banjo, harmonica, bodhran (Irish drum), ukulele, spoons, rhythm bones and tea-chest bass, and using props, costumes and artefacts I've collected on my travels.
Students are always involved – in discussion, singing and playing simple instruments.
The show varies according to the curriculum focus of the class. This focus can be general Australian history – anything from convict ballads, Indigenous songs and stories (with permission) to original contemporary material – or we can narrow the focus to particular areas.
So teachers, please ask and I'll let you know how I can fit the bill.  For example, the following topics have been requested by teachers. :
Black-white history & First Contact & First Fleet
Songs and stories I've learnt from Indigenous friends; researched from events such as the 1966 Gurindji walk-off and the First Fleet; my personal experiences working with Indigenous people; excerpts from my theatre show The Go-between: William Murrungurk Buckley; material from radio and television documentaries I've made with Indigenous people, and from my biography with Wardaman elder, Yidumduma Bill Harney.

Australians of Significance
Songs and stories that tell of Capt. Cook (even though he wasn't Australian) to writers such Henry Lawson; his mother Louis Lawson, also known as the 'mother of the vote for women'; the female immigrant's friend, Caroline Chisholme; John Batman, who started the 'land rush' to Melbourne; Gough Whitman and Vincent Lingiari who marked the beginning of Australians understanding of Land Rights with the famous photo with the handful of sand; poets Mary Gilmore and CJ Dennis, Ned Kelly and more.

Colonial Times
As is well-known, I was a founder of Australia's most famous bush band, The Bushwackers, specializing in Australia's folk repertoire of 18th, 19thand early 20th century Australia. From this repertoire – be it convict material, men and women in the bush, the bish and the city, and much more – I can fashion a show to suit your studies.