Music and Story Show                                                                                                                                                                      Primary & Secondary
"The stories got the children hooked straight away…Jan was able to quickly build a rapport with the children and the frank and honest answers to questions was great…excellent use of common articles for music…every child wanted to be in the show. Overall a very entertaining and educational show. Jan demonstrates a diversity and richness of the Australian character." (Sth. George Town PS)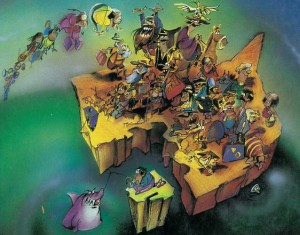 Cover illustration of Jan's book 'A Fruitcake of Australian Stories'
Brief
Jan has an extensive repertoire of Australian stories and songs, written and gathered over his 52 years performing. Consequently he can take an Australian history show in many directions.  So let Jan know which areas/s you wish to focus upon, and he will build the show to your curriculum focus (if he can't he'll tell you, of course).
Entertaining, informative and fun, this song & story show involves students playing instruments and singing. As with all Jan's work the Australian stories are 'honest history', exciting true tales, with meaningful question time at the end.
Curriculum
According to the requests from teachers, The Australian History Show can address many curriculum areas, both Primary and Secondary.
More Information re the show
Jan plays five-string banjo, harmonica, bodhran (Irish drum), ukulele, spoons, rhythm bones and tea-chest bass.

Students are always involved – in discussion, singing and playing simple instruments.

Previous shows requested by teachers have been

Australians of significance

Landmarks of Melbourne

Colonial rural life

Water and the Yarra River (with Maya Ward)

Migration (now a show on it's own)

First Fleet, first contact (also a show on it's own)
Practical Details
Duration:     60 mins plus questions
Set up:          1 hour
Cost:             $5 per student. $500 minimum, plus travel costs to some locations.