Music, Story, Poetry Theatre                                                                                                                                                                    

Year 5/6 & secondary (NAT year 9: Modern World)                                                                                                                                W

ith student participation)

"It was a brilliant production and we will certainly book Jan again. I was very impressed with how Jan involved our students in the presentation. Jan had total control, they were silent, listened attentively, and the questions were deep and meaningful." (Billanook College, Victoria)

'Mehmet' the Turkish soldier and Australian digger
Brief
A music and story theatre piece, with student involvement playing parts, re-telling Gallipoli with both Turkish & Australian song, poetry and story.
Contextualised within Australian involvement in WW1. (Çanakkale (pronounced 'Cha-nak-ali') is what Turks call Gallipoli.)

See below for full description.
The Practical Details
Duration                         60 minutes + questions                                                                                                                                                        Set up                              60 minutes
Student involvement      Five students play roles with scripts sent ahead                                                                                           Cost                                  $5 per student. $500 minimum per show, plus travel in some locations
Content Details
.The show is structured around four events: the April landing, the May truce, the August offensive and the December evacuation.
The Australian material comes from poets CJ Dennis and Mary Gilmore, the ABC archives of Bill Harney, songwriters Ted Egan and Eric Bogle, and traditional songs from the time.
The Turkish material is drawn from poets Nazim Hikmet and Bulent Ecevit, traditional song, and from the words of Turkish hero, Mustafa Kemal Attaturk.
This historical content is laced together by Jan's experiences performing at Gallipoli.
By bringing both sides together in Çanakkale. Gallipoli. Lest We Forget our Anzac legend is enlarged by the Turkish legend of how enemy soldiers found respect for each other, and how that respect led to the friendship that Australia and Turkey share today. This performance also questions the veracity of this contemporary story.
Students are also asked to think about questions such as was Gallipoli the 'birth of a nation?', and to compare Australia's Gallipoli identity to Turkey's, via Mustafa Kemal Attaturk, the commander against the Anzacs who became their President.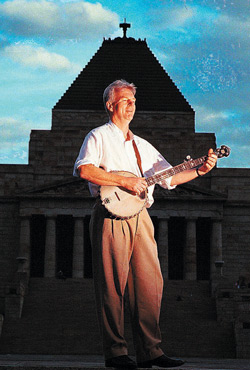 Teacher & Other Recommendations
"The performance was excellent; varied and relaxed, but quite structured. Having students involved showed that this was cool. The stories challenged the students to think, and it was great for SOSE, Australian History and English." (Horsham Memorial SC)
"Fitted in with the study of war in Year 9 History, and as an alternative to class work gave expression to other 'intelligences'. The music gained a very positive response from students, It was commendable to weave in the Turkish perspective. The participation kept the group engaged with a feeling of sharing the event." (Xavier College)
"It was a clear, simple outline of what happened at Gallipoli…the students were really engaged and attentive, and the discussion afterwards was really positive…very positive feedback from staff who attended." (Sue Wooley, Fintona Girls School, Balwyn)
"Excellent. Gave students a hands-on and visual experience of Gallipoli and events surrounding this time. Students responded really well to Jan as they were genuinely interested in the presentation." (Jayne Sheumack, St Francis Xavier College)
"Excellent. This provided students with an overview of Gallipoli, and a solid basis from which to begin their study. The student behaviour was a solid indication of their interest and respect for Jan." (Sarah Morgan, Ringwood Secondary College)
"It fitted our curriculum perfectly. The combination of narrative, song, poetry, student involvement, and props actively engaged the students and allowed them to consider the Gallipoli 'experience' from different points of view. They were thoroughly engaged and interested!" (Catherine Judd, Siera College)
"Some of the students were unsure what to expect but once Jan started they were very interested. The songs were really clever, and the students enjoyed the participation aspect. Thanks for coming out, I really enjoyed the performance." (Angela Marsden, Lilydale High School)
"An excellent combination of role-playing, music, poetry and visuals, and the girls enjoyed being an integral part of the performance. The stories came from the finest form of oral tradition, and we'd definitely invite Jan back to do more." (Alex Radovanovic, Melbourne Girls Grammar)
"Great for SOSE/ Australian history/ English. Jan held their attention extremely well, and the stories challenged the students to think. Involving students was fantastic as students related to their peers." (Shirl King, DimboolaSecondary College)
"Students loved the show and they thought Jan was great, and having students involved in the performance showed that this was cool. The performance was excellent; varied and relaxed but quite structured." (Neil King, Horsham College)
"Very good. Provides a pleasing alternative to class work and gave some freedom and expression to other 'intelligences'. The rapport with the students was really positive, and the large groups after recess and lunch were managed very effectively." (Graham O'Rourke, Xavier College)
"Thanks you for giving Lest We Forget as the keynote presentation at the HTAV's 25th Anniversary Conference. I heard lots of positive comments, some of whom said it was moving and informative as well as entertaining. I think academic conferences benefit from an artistic perspective and I think participants would have had their hearts and imaginations kindled by your performance. Thanks you also for being well organised and making the process so smooth from an administrator's point of view." (Ingred Purnell, History Teachers' Association of Victoria)
"As a context for students to explore and understand Australian history it was excellent." (Ian Tymms, Woodleigh School)
"Jan's use of primary sources, such as literature and song from the period, provided students with the Turkish and Australian perspectives untainted by time or the subjective nature of historical analysis. It was a great way of learning, and can have a greater impact on younger students who sometimes have a negative view of history." (Gerry Martin, Port Phillip Leader)
"I have seen Jan's Lest We Forget performance twice. Once in a venue at Eceabat and then again at the Dawn Service with a group of fellow travellers to Gallipoli. I can say with certainty that its combination of shared commemoration with the Turks, its multi-layered tributes to the spirit of reconciliation and the memory of those who were sacrificed moved everyone present.
Jan's work is ingenious in being able to capture both the Anzac and Turkish experience and present it in a way that is totally accessible, engaging, and respectful but at the same time quietly theatrical. His pre-Dawn Service performance is in perfect harmony with the occasion and provides the gathering with an appropriate level of focus, sensitive to the tone of the occasion. Jan is a true latter day troubadour in the tradition of Australian Bush poets and Turkish 'ozans' and "ashiks'. I hope he can become a regular fixture at Anzac Cove's Dawn Service." (Harvey Broadbent, author and producer of  Gallipoli writings and documentaries)