Australian history incursions: shows & workshops for primary and secondary schools
The Go-Between: William Murrungurk Buckley
Story theatre with lots of visual content
Colonial and Indigenous Victoria
William Buckley when he re-joined white society, 1835
Brief description
Through the amazing story of escaped convict William Buckley (1780 – 1856) this show tells the story of the first attempted white settlement on Port Phillip (1803), of the Wathaurong people of the Geelong with whom Buckley lived for 32 years as Murrungurk,  and then of Melbourne's beginning (1835-7) – where Buckley became the go-between, dealing with John Batman and his attempts to buy the land off the Wurundjeri people, and the other colonists such as John Fawkner. 
"Highly useful! Gave children a unique perspective of how Melbourne evolved and of the uneasy relationship between cultures. The children listened intently and Jan had their attention for the full session. We loved the printed images on shirts and signposts to reinforce the information." (Adam Watman, Caulfield Grammar)
Curriculum
Year 4-6 & secondary
NAT 5 (First Contacts) & 5 (Colonies)
The Practical Stuff
60 mins + questions / 60 min set up
Three students play roles with scripts sent ahead
Cost
$5 per student with minimum $500 per show
Travel/accom/road toll costs apply in some locations
" A breezy and brilliant piece of troubadour theatre. As with the very best of theatre 'Buckley' covers its tracks so well its agenda remains a secret – buried beneath layers of entertainment, comedy, story and song. A show worth tracking."           (Herald-Sun)
Full Description
This show deals with Indigenous Australia and European colonisation of the Port Phillip area, from 1803 – 1837, including the founding of Melbourne.
It does so by tracking the life of convict William Buckley (1780-1856), including:
Buckley's 1803 escape from Victoria's first attempted settlement at Sorrento.
Buckley's 32 years with Wathaurong Aboriginal people, where he became 'Murrungurk'.
Buckley's two years as the go-between in Melbourne's foundation (1835-7), employed as Interpreter between the Port Phillip Aborigines and the colonists – John Batman, John Fawkner and co.
Drawing on Buckley's 1852 biography, official documents, contemporary Buckley literature, Wathaurong language and Jan's research in 'Buckley country', The Go-Between: William Murrungurk Buckley is a well-researched ripping yarn, with a quirky visual display of familiar Melbourne street signs and historical images.
It's exciting, wild frontier history, such as we rarely hear about Victoria, and pulls no punches about the characters, ironies and violence of the time, without fear or favour to black or white, including:
*   Batman's land deal or 'treaty' with the Woiwurrung people
*   Fawkner's rivalry with Batman and his antipathy to Buckley
*   How Derrimut foiled a planned massacre of the colonists
*   The first killings of settlers and subsequent massacre of Aboriginals at Werribee
*   The disappearance of solicitor Gellibrand, who wrote Batman's deed, and the sabotage of Buckley's
search for him by black and white interests.
And in telling this oft-hidden history, students are asked to consider many questions about black-white relations that are as pertinent today as in the 1800's.
And it's from William Buckley that we have our saying, You've got Buckley's – but its origin will surprise!
More recommendations
Teacher's Notes
Enquiries/ Bookings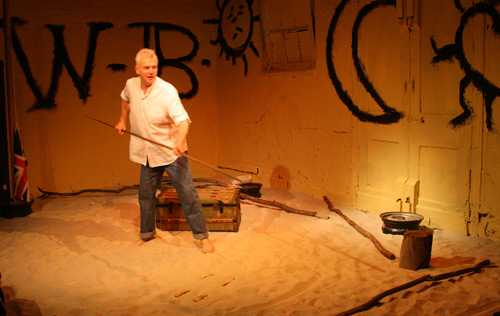 More Teacher's Recommendations
" A breezy and brilliant piece of troubadour theatre. As with the very best of theatre 'Buckley' covers its tracks so well its agenda remains a secret – buried beneath layers of entertainment, comedy, story and song. A show worth tracking."
Herald-Sun
"It tied in with our study of Melbourne for our year 9 program. Jan had an excellent manner and a good presence. The students were relaxed and attentive, with good use of space, practical visual aids, and interesting detail on the characters involved, followed through to the end of their lives. Look forward to seeing you next year."
Mary Bullock, Braemar College, Woodend
"Highly useful! Gave children a unique perspective of how Melbourne evolved and of the uneasy relationship between cultures. The children listened intently and Jan had their attention for the full session. We loved the printed images on shirts and signposts to reinforce the information."
(Adam Watman, Caulfield Grammar)
"It tied in with our study of Melbourne for our year 9 program. Jan had an excellent manner and a good presence. The students were relaxed and attentive, with good use of space, practical visual aids, and interesting detail on the characters involved, followed through to the end of their lives. Look forward to seeing you next year."
(Mary Bullock, Braemar College, Woodend)
"The performance was excellent, and it fitted in with our unit of work on early Australian explorers. Students were continually engaged, keen to participate and actively involved throughout the show."
(Jan Chalmers, Heathdale Christian College)
"It was a good foundation for students general knowledge and association to our Aboriginal unit."
(Lisa Ashen, Essendon PS)
"Very good. The students were continually engaged, they didn't fidget, and were keen to participate. We were very impressed with the show." (Robert Kingston, Heathdale Christian College)
" 'Buckley' was well researched and linked into our history program very well. His preparation of the participating students was professional and they thoroughly enjoyed the experience.' (Roger Crabtree, Eltham College of Education)
"The students were uncertain to start with, but they warmed up. It fitted in perfectly with year 8 Humanities studies on local history." (H. Boundy, Woodleigh School)
"It's obvious that Jan has worked with many school groups before, with his good rapport and ability to keep the attention of the students." (Scott McNulty, St Joseph's College, Geelong)
"Thanks, really enjoyed the presentation. It tied in well with class content and helped give students a greater understanding and appreciation of the characters involved in the settlement of Victoria." (Peter O'Connor, St Joseph's College, Geelong)
"Excellent. It supported what we had learnt in class and Jan was both commanding and credible to the students." (Jennifer Todd & Shelley Mulvenna, Karingal Park SC)
"…a breezy and brilliant piece of troubadour theatre. As with the very best of theatre 'BUCKLEY' covers its tracks so well its agenda remains a secret – buried beneath layers of entertainment, comedy, story and song. A show worth tracking." (Herald-Sun)
".. a vivid tale, often spiked with larrikin humour, this is an educational and entertaining take on a classic Australian story." (The Age)