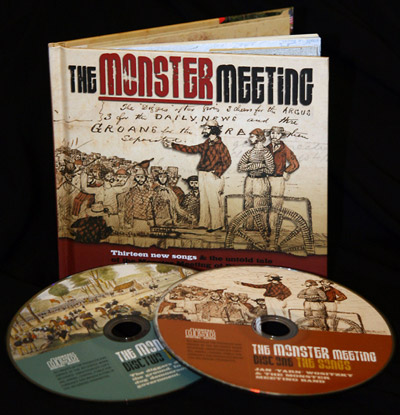 The Monster Meeting
MP3 downloads
Mail order CDs
Disc 1: The Songs
Disc 2: The Story
This brilliant new double album is at once a theme album, a feast of varied songs from 10 different songwriters, a showcase of some very mature musicianship from The Monster Meeting Band, and and a protest album that speaks to us today through the story of the Monster Meeting of Diggers, 1851.
This was the first mass protest meeting in Australia, when 15,000 diggers stood up to the Victorian Government's Gold License, a tax whether they earned any money or not, and won. In doing so they set a path for democracy in Australia.
Recorded by Mark Woods (Men at Work, Midnight Oil, Tina Turner) and produced by Jan 'Yarn' Wositzky (Bushwackers Band) it features Ashley Davies (Waifs, Geoff Lang) on drums, Tim Heath (The Basics, Blood Red Bird) playing acoustic and electric guitars, James Rigby (Ugly Uncles. Blackwood) on mandolin, bouzouki, tenor banjo, Nicolas Lyon (Peter Sculthorpe, Margaret RoadKnight, Yellow House) and Jan 'Yarn' Wositzky on 5-string banjo and harmonica.
Jan Wositzky sings three of the songs. The remainder are sung by the songwriters, and special guest, traditional virtuoso, Danny Spooner, as well as Jane Thompson (Blackwood, Faye White) singing harmonies.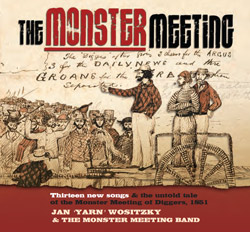 The songwriters, some well known, some not, are listed below.
The story CD, telling the background and events of the Monster Meeting, is scripted and narrated by Jan 'Yarn' Wositzky, and features music, readings actors Ian Scott, Tim heath, Angus Read-Hill, John Flauss, Ken Radley and James Benedict, and interviews with historians Weston Bate, Marjorie Theobald, Robyn Annear, Doug Ralph and archeologist David Bannear.
For more details, bios, lyrics and photos, go to: Monster Meeting website

Songwriter & Songs
Richard Lewis: We Are Starting Something Here
Jamie Roberts: The Cards That Fell
Martin McKenna: Thirty Shillings A Month
Patrick Killeen: The Ballad of Forest Creek
Mickey Levis & Annie Morabito: More In Our Hearts than Gold
Frank Jones & Christie Wositzky-Jones: Father Dear
Doug Owen: Three Quid for the Privilege
Dave Maxwell: Gather 'round the Flag
Merryn Lamb: We Stand for Our Rights
Stephen Foster/ Charles Mackay/Trad./ Jan 'Yarn' Wositzky: Good Time A Coming
Tony Ryan: The Quartz And The Clay