The Bushwackers & Bullockies Bush Band – The Shearer's Dream
click here for CD | downloadable tracks | downloadable whole album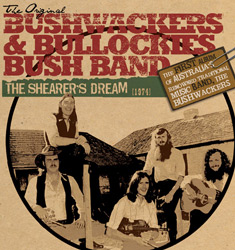 This is the very first album from Australia's most famous folk/bush band, The Bushwackers with Dave Isom, guitar & banjo; Mick Slocum, accordion & concertina; Dobe Newton, lagerphone & tin whistle; Tony Hunt, fiddle & banjo; and Jan 'Yarn' Wositzky, bush bass, spoons & bodhran mouth organ. All sing.
Recorded in 1974 and originally issued on vinyl, it's re-mastered but still retains its original energy and feel. Fourteen tracks, mainly traditional Australian bush songs with Irish instrumentals, it's up-tempo in true Bushwackers style, but also with recitations and ballads; one, Jim Jones, with melody written by Mick Slocum, was even covered by Bob Dylan.
Both CD and download come with a 24-page booklet of photos, posters, memorabilia and story of the band written by band member Jan 'Yarn' Wositzky and designed by Geoff Hocking.
Tracks on CD (Click to view downloadable tracks):
1       South Australia (Trad.) 2:46
2       The Red Hot Woodstove (Trad.) 2:51
3       The Maranoa Drovers (Trad.) 3:24
4       Ned Kelly Was Born In A Ramshackle Hut (Trad.) 2:56
5       The Swagless Swaggie (Edward Harrington) 2:35
6       Drops of Brandy (Trad.) 2:34
7       The Ryebuck Shearer (Trad.) 3:35
8       The Woolloomooloo Lair (Trad.) 2:35
9       Holy Dan (Trad.) 2:13
10       Bullocky Oh (Trad.) 2:51
11       Jim Jones (Trad/Slocum) 3:50
12       The Bush Girl (Lawson/Kempster) 3:46
13       Dennis O'Rielly (Trad.) 4:09
14       The Shearer's Dream (Trad.) 6:41
*Publishing/all rights reserved.